GHL Doser 2.1 SA, 4 pumps, white, USA/CND
$499.90
Stand Alone dosing pump unit, white, with integrated controller, WLAN, USB, stepper motors and power supply.
About GHL Doser 2.1
Thanks to the high quality technology inside the compact

and

modern

GHL

Doser

2.1, it

not only provides

 

precise and simple dosing, but it also includes many more features.

 

With the free

GHL

Contol

App

or

the

cloud service

myGHL 

you can access

your

Doser from anywhere in the world to

 

start

dispensing programs or

 

check

 the 

levels

of your

metering liquids

.
I
ts
24V stepper motors allow precise dosing even at the smallest flow rates (0.1 ml).
The device is comfortably operated from

 your smartphone or

your PC

.

The connection

is possible via

WiFi, LAN

and

USB

.
The LED illuminated GHL Logo in the housing serves as a status indicator. It displays the condition of your aquarium by displaying various colors and tells you when something requires your attention.
The GHL Doser 2.1 is available as a Stand Alone Unit, as well as a Slave Unit.
GHL Doser 2.1 Stand Alone:
The GHL Doser 2.1 Stand Alone has integrated control electronics and works on its own.
It includes two PAB-ports for connecting additional GHL Doser 2.1 Slave, Maxi Doser Slave or KH Director devices via ProfiLux Aquatic Bus.
PAB is an interference free CAN-Bus-System which allows for extremely secure data transfer between all PAB devices such as additional GHL Doser 2.1, KH Director, GHL Doser Maxi Slave devices. The range can be up to 100 m (300 FT).
PAB cables are not included and must be purchased.
One GHL Doser 2.1 SA is able to control 3 additional GHL Slave Dosers (GHL Doser 2.1 Slave or GHL Doser Maxi Slave) and can thus be extended to a dosing system with a total of 16 pumps.
GHL Doser 2.1 Slave:
The GHL Doser 2.1 Slave needs to be controlled via a ProfiLux Controller or a GHL Doser 2.1 Stand Alone (with integrated control electronics).
Stand Alone + 3 Slave Doser
ProfiLux Controller + 4 Slave Doser
Features
Milliliter precision and automated dispensing of liquids such as
Fertilizers
Trace Elements
Balling Salts
Lime Water
Liquid Feed

Integrated

evaporated water refill (Auto Top–Off)

Water

exchange of small water volumes
---
Expandable to 16

pumps respectively metering channels

S

tainless steel motor shafts (also suitable for the dosage of Iodine)

Chemical resistant

tubing (Norprene®)

Manual operation

of each individual pump is possible

Pumps

can be retrofitted

Individual parts can be replaced (tubes, pump head, motor)

24V

stepper motors allow micro doses of 0.1 ml
---
Up to 150

doses per day

Easily chose

dosing times via software (GHL Control Center).
Automatically: Up to 150 individual doses per day automatically distributed
Individually: Up to 8 doses per day individually set

Each pump

can be set separately

Conveying capacity and

dosing:


8-45

ml / minute (precisely adjustable to 0.1 ml)

Level indicator
---
WiFi, LAN, and USB

Alarm

function

Large

LED status indicator

Status

LED for pumps
---
C

onvenient to program via our free

PC software

GCC

Or over our

 app, web, and cloud service, also free of charge
Professional CAN Bus System ensures reliable and interference-free networking of all network devices.
The LED–backlit GHL Logo in the housing cover serves as a status indicator. Various colors show you at a glance, the condition of your system.
Each pump can be operated manually via the push buttons on the front panel. This allows you to quickly post-dosing, deflating the tube vent or suctioning liquids.
Ample accessories available.
GCC, GHL Connect App, Cloud Service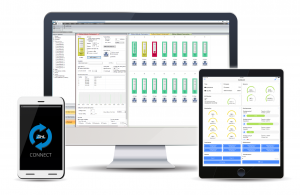 GHL Devices are easily accessible via the free PC software GCC , GHL Connect app and cloud service myGHL. (> learn more).
Delivery includes
GHL Doser 2.1 Stand Alone Unit
24V power supply
8x Plastic tubing adapters
6ft USB cable
* 1/4″ tubing not included
Maintenance & Wear parts
Doser 2.1 pumps are largely maintenance-free. For optimal performance, we recommend occasionally cleaning and removing dust and other impurities from the inside of the pumps. The pumps must never be lubricated in any way!
Tubes, pumps and motors are wear parts, the life time depends on the use frequency, flow quantity and environmental conditions. When malfunctions (e.g. insufficient flow, losing prime, leakage, increased operation noise) or mechanical damages occur the wear parts must be replaced. Due to the maintenance-friendly design all wear parts can be replaced easily, all wear parts are available as accessories.
Support
Do you have questions

or

need technical support?
We're here to help. First begin by following a few tips:
You have

questions about the operation

or

for system setup

?
Still have questions?
Do you have

a complaint

or

a defective product

?
Not found what your are looking for?