Sale!
ProfiLux 3.1T, USA/CND
$399.90
Aquarium Controller for controlling light and measurement and control of pH and temperature.
With power supply unit, temperature sensor, USB-Cable.
About ProfiLux 3 T
The ProfiLux 3.1T Controller can be used for lighting control, for pH measurement- and control, level control and for temperature measurement.
USB and LAN ports are built-in. With additional Expansion Cards and the respective required Sensors, you further can measure conductivity, redox potential, oxygen, relative humidity or air temperature.
Network connection and webserver are integrated.
There are 30 1-10V interfaces. Up to 64 sockets can be controlled.
It has two inputs for level and leakage measurement, which can optionally be extended to a maximum of 16 inputs.
Additional expansion cards and the respective sensors enable to measure and control conductivity, redox potential, oxygen, relative humidity or air temperature.
Expandable with the Expansion Box 2.
Functions
32 channel illumination control for dimmable and non-dimmable lamps, herewith up to 32 lamps can be programmed separately
Sunrise and sunset
Moon phase simulation, calendar-based
Cloud simulation through random generator, thunderstorm calculation
Rainy days, programmable
Feed pause for pumps
Control of up to 16 speed-variable current pumps (ebb/tide and wave simulation)
Operation hour meter for lamps
Burning-in mode for fluorescent tubes
Battery-buffered real time clock
PC-interfaces RS232, LAN and USB are built-in, operation with free Windows-Software GHL Control Center possible
Integrated webserver: viewing values and states, edit important settings, email-client, DHCP, SNTP, TFTP, RSS
Cloudservice myGHL
Connection option for external display
Display of reminder texts (e.g. "Filter change!")
Control of up to 64 switchable power sockets and dosing pumps
32 timer and dosing pumps programmable
Child protection via PIN-code
Simple and intuitive operation, all settings are made in form of interactive dialogues
All settings are stored in a non-volatile storage (FRAM) even during power failures
Controller is expandable internally with 2 additional modules, with our Expansion Box there are practically no limitations
Connection option for radio-controlled clock receiver (DCF)
Several ProfiLux can be networked
Regulation of the pH-value via CO2-addition (downwards) or via alkalisation (upwards), programmable nightly decrease
Sequential temperature control for glow bar, ground heating and cooling, programmable nightly decrease, speed-regulated fans controllable
Alarm function, output of the alarm optical, acoustic or via switchable powerbar
Operation hour meter for all sensors
Therapy program for ill fishes
With expansion cards other values, like redox, conductivity, humidity, air-temperature or oxygen can be measured and controlled
Connection option for 2 level sensors
Automatic calibration of all sensors
Recording of measurement data
Temperature sensor included in delivery
Features
PC-Software: GHL Control Center (GCC)
Several Controllers can be networked.
Dosing pump control
Control PropellerBreeze (adjustable aquarium radiator)
Timers
Automatic waterchange
Maintenance program: Shutdown of consumers during the cleaning and maintenance, dimming down the lighting etc.
Customizable reminders
Therapy program
PIN-Protection
Operating hours meter
Feeding pause
Burning-in mode for fluorescent tubes
Power-up delay after power failure
Programmable Logic
…
General
Dimensions
WxDxH: 240x200x55 mm (D+55 mm for cable connections/ H+3 mm for device feet)
Delivery inclusive
Power Supply, Water Temperature Sensor, USB Cable
Measurement and Control
pH-Value
√
Water Temperature
√
Redox Potential
Optional (Expansion Card can be retrofitted)
Conductivity
Optional (Expansion Card can be retrofitted)
Oxygen
Optional (Expansion Card can be retrofitted)
Relative Humidity
Optional (Expansion Card can be retrofitted)
Air Temperature
Optional (Expansion Card can be retrofitted)
Functions and Features
Lighting Control Channels
32
1-10 V Interfaces
6 (optional 30)
Controllable, separately switchable Sockets
64
Expansion Slots
2
Dosing Pump Control
√
Flow Pump Control
√
RS232 Interface
√
USB Interface
√
LAN Interface
√
Alarm
√, visually and acoustically
Inputs Level Sensors/ Leakage Detectors
2 (optional 16)
Grafical Display
√
PAB Connection
√
Expansion Box extension possible
√
Integrated Webserver and Email Client
√
Cloud Service myGHL
√
Operating System
ProfiLuxOS
GCC, GHL Connect App, Cloud Service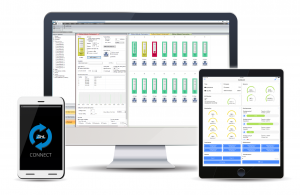 GHL Devices are easily accessible via the free PC software GCC , GHL Connect app and cloud service myGHL. (> learn more).
Support
Do you have questions

or

need technical support?
We're here to help. First begin by following a few tips:
You have

questions about the operation

or

for system setup

?
Still have questions?
Do you have

a complaint

or

a defective product

?
Not found what your are looking for?