About this article
Your GHL device offers multiple connectivity options with USB being one of them. This article will show you how to connect to your device via a USB connection using GHL Control Center.
You will need…
In order to proceed with these steps, you will need the following:
| | |
| --- | --- |
| (Item) | (Purpose) |
| Windows computer | Allows you to run GHL Control Center program |
| Correct USB cable | Allows you to connect the USB cable to your GHL device and PC |
Preliminary step: Download GHL Control Center
Before you proceed with the steps below, you must first download the newest version of GHL Control Center. This program will allow you to access your GHL device settings via a Windows computer.
To download GCC, visit our downloads page and install the program to your PC.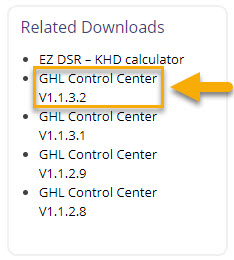 Connect USB cable
Take the USB cable that came with your GHL device and connect one-end to the device and other-end to your PC
NOTE: Make sure Windows installs the correct driver!
When connecting the USB cable to your PC for the first time, Windows should automatically install the correct driver to your computer. This driver will be listed in Device Manager as GHL Virtual Communications Port.

Not sure if Windows is using the correct driver?
Here's how to check:
Click the Windows search bar and type-in Device Manager, then select it
Under Ports (COM & LPT), click the (+) icon and view the list. If you do not see GHL Virtual Communications port and instead see USB Serial Device…your computer IS NOT using the correct driver.

To manually install the correct driver, follow the steps shown in this video:
https://youtu.be/iQ1VvjufmvM
Open GCC and create a dedicated USB connection
Open GCC and click Administrate (top left)
Click NEW
Select your GHL device
4. Set the Type of connection to USB
5. Give this connection a name; GHL Doser USB…ProfiLux 4 USB…Mitras LX7 USB…etc
6. Set the COM to AUTO
7. Click Save, then click Close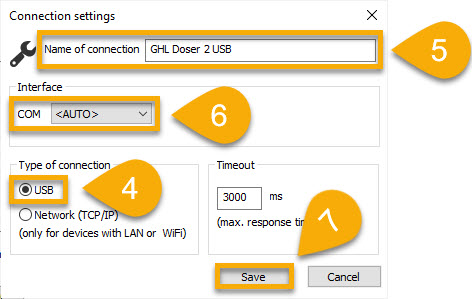 8. Select your newly made connection by either clicking Connect or by double-clicking the respective icon.