GHL Doser 2.2 Maxi
Dose large amounts with pinpoint precision.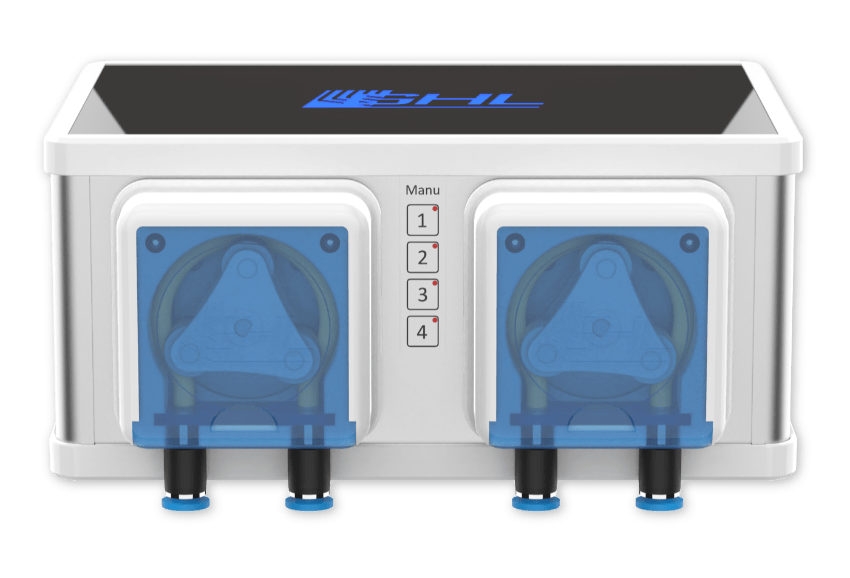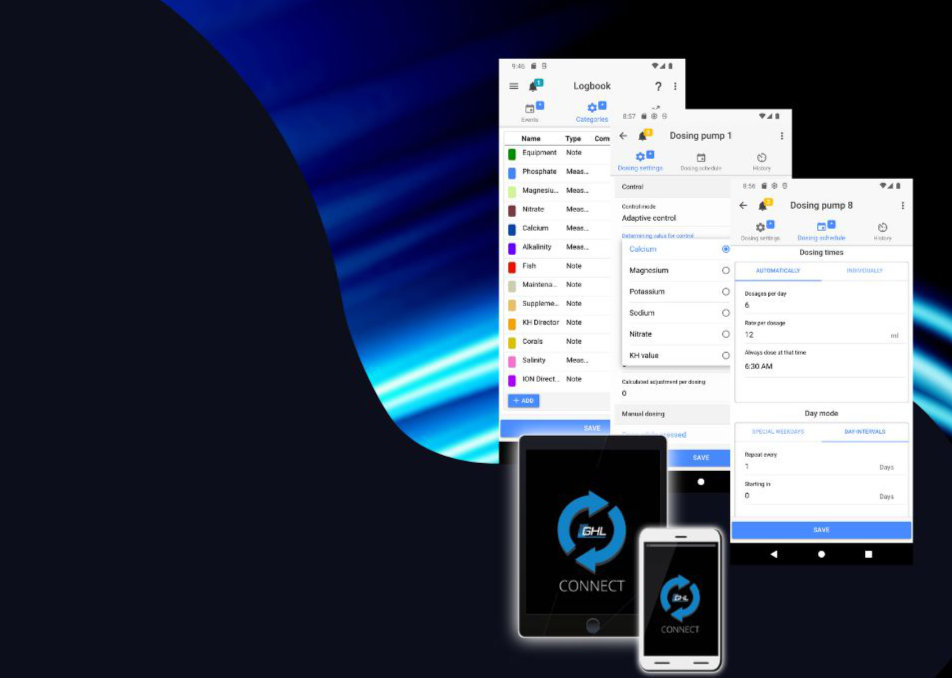 The GHL Doser 2.2 Maxi with a flow rate of up to 320 ml/minute is ideal for automatic water changes, level control, and dosing in larger quantities. Due to the precise 24 V stepper motors, micro-doses of 0.1 ml are also possible
Robust mechanics and highly efficient stepper motors even allow continuous operation at constant speed, e.g. for operating reactors.
The LED illuminated GHL Logo in the housing serves as a status indicator. Various colors and blink codes and tell you when something requires your attention.
The GHL Doser 2.2 Maxi is available as a Stand-Alone Unit (SA) and Extension Unit (EXT).
GHL Doser 2.2 Maxi Highlights

.

 
Ease of Use

and Multiple Connectivity Options.

Adjust settings in the App, Cloud and Webserver on the go or via our PC-software.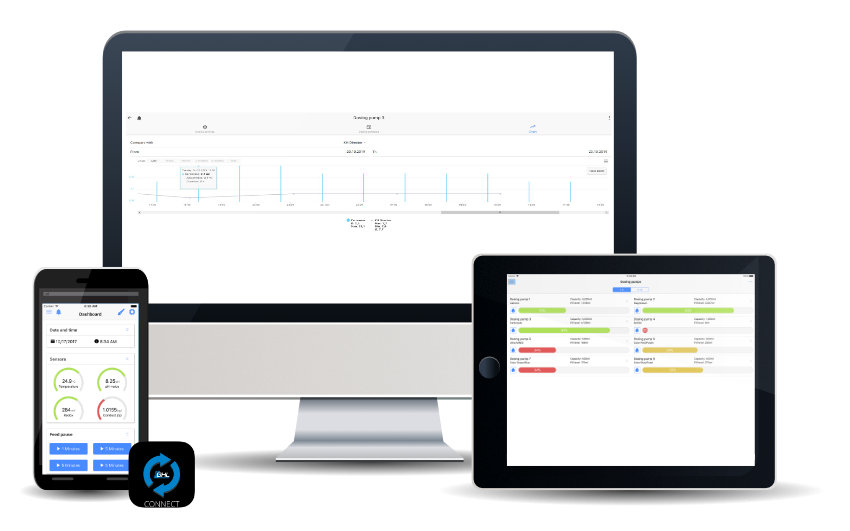 Accurate 24 V stepper motors allow you to perform up to 150 doses per day.
When determining the dosing times, you can choose your doses to be distributed automatically throughout the day — or up to 8 doses per day, individually set.
Tracking with the GHL Logbook
.
Keep track of all your aquarium-related events, set reminders, record past and current water parameters, and more with the GHL Logbook.
The GHL Logbook is your digital notepad for recording aquarium-related events, setting reminders, recording past and current water test results, and so much more.
Stand Alone

and

Extension

Doser

.

Efficiency at its Best.
Do you need more than one device? If so, the GHL Doser Maxi 2.2 is perfect for you because the Doser can be expanded into an efficient dosing system. Control up to 32 pumps independently with a ProfiLux or 16 pumps with any SA Doser.

Stand Alone and Extension Doser. Ports.
GHL Doser 2.2 Maxi Stand Alone
Realize the full potential of GHL Doser Maxi 2.2 Stand Alone:
The Stand Alone unit has integrated control. With it, you can additionally control other Extension Dosers (GHL Doser 2/ 2.1/ 2.2 Extension or GHL Doser Maxi Extension).
You can also connect up to 2 Level sensors to monitor the water level in your basin and a temperature sensor for checking the water temperature. You can even use our Magnetic Stirrer to ensure that fluids are always mixed prior to dosing.
GHL Doser 2.2 Maxi Extension
You can expand your Stand Alone Doser with an Extension Doser or connect a ProfiLux 4 for control.
GHL Doser 2.2 Maxi: Quiet – Efficient – Reliable
Quality and Functionality

.

The cutting-edge

GHL

PP2 Peristaltic Pump

.

Maintenance & wear parts
The pumps are largely maintenance-free. For optimal performance, we recommend occasionally cleaning and removing dust and other impurities from the inside of the pumps. In order to reduce noise during operation it is allowed to lubricate the pump with vaseline.
Tubes, pumps and motors are wear parts, the life time depends on the use frequency, flow quantity and environmental conditions.
Average lifetime: 5000 hours for the motor, 800 hours for the pump head.
When malfunctions (e.g. insufficient flow, losing prime, leakage, increased operation noise) or mechanical damages occur the pump head or motor must be replaced. Due to the maintenance-friendly design wear parts can be replaced easily, wear parts are available as accessories.
Are you in need of technical support or would like to have a buying guide?

If so:
Then join the growing GHL community by navigating to our dedicated support forum! Our GHL Support Forum offers you direct contact with the GHL–Team and our wide customer base and can provide you with a wealth of tips and guidance. Just make sure you stop by!