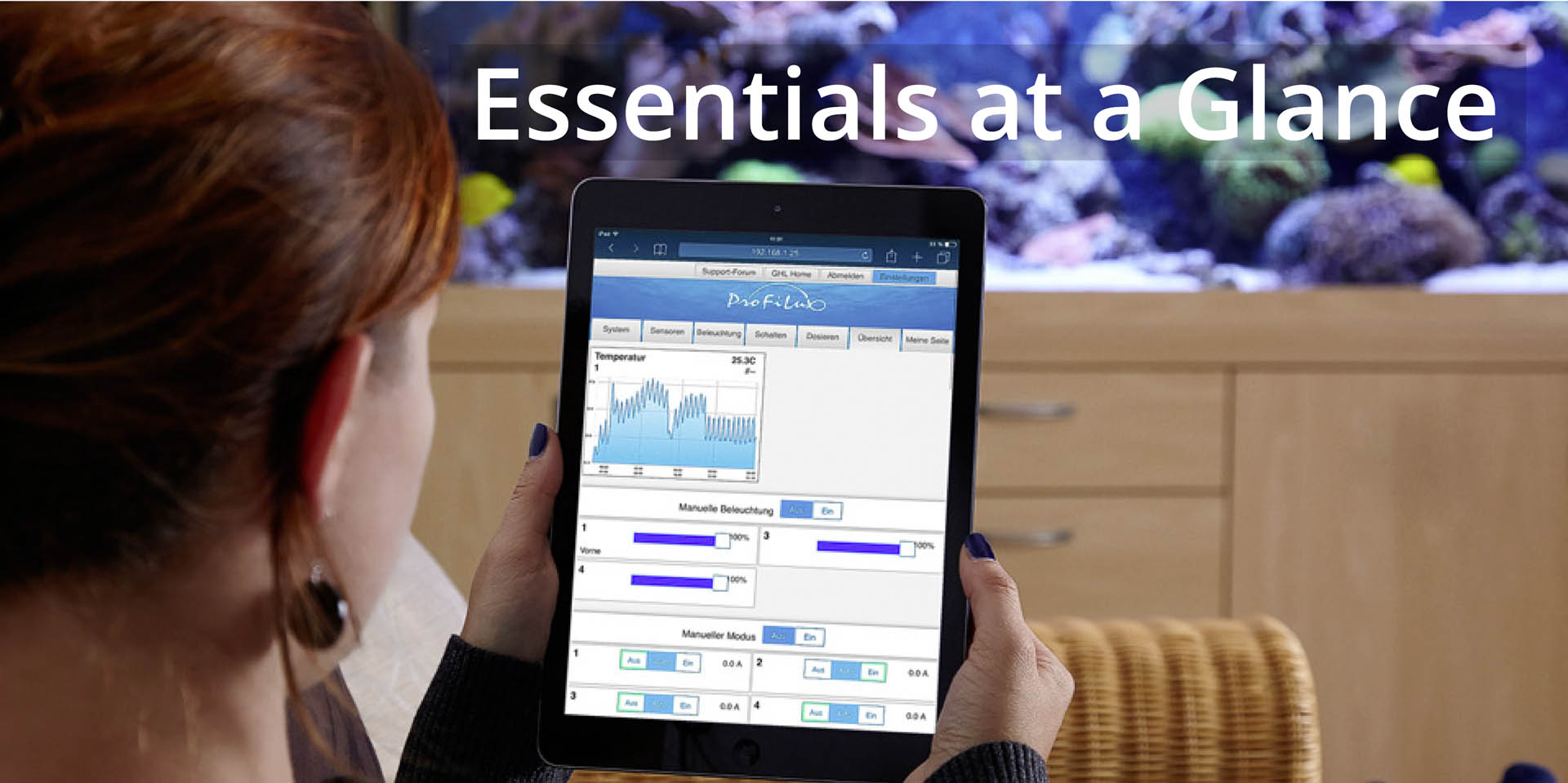 Professional and Safe.
The ProfiLux Aquarium Controller is built to make your hobby more enjoyable. We are hobbyists just like you and we know very well about the work involved in maintaining an aquarium, terrarium, and pond. Weekly water changes, monthly water testing, daily dosing, setting reminders, topping off, the list goes on and on. Wouldn't it be great if you could spend less time working on your tank and more time enjoying it? There's no need to wish because ProfiLux can make it happen!
Another high-light is the accurate lighting control that can be accomplished with our advanced programming features and is compatible with many types of lighting. Create and simulate unique lighting effects, such as sunrise/sunset, lunar cycle, seasonal lighting or thunderstorm simulation which stimulates the species-typical behavior of your animals.
With ProfiLux, the capabilities are enough to suit even the most demanding hobbyist. We offer different ProfiLux models to suit hobbyists' needs. Depending on the chosen model, most controllers can be expanded and be connected via our integrated CAN bus system ProfiLux Aquatic Bus (PAB). This type of connection ensures secure and reliable data transfer between the devices – even over long distances of up to 100 meters (300 ft) away.  While some features may differ between models, they all share the same characteristics of safety, reliability, and performance.
ProfiLux Controllers utilize the latest in microprocessor controlled technology and are equipped with our own ProfiLuxOS, designed specially for the aquarium hobby. First time setup is simple. No technical programming skills are required and our interactive dialogues make operations efficient and intuitive.
Depending on the chosen model, users are also provided with various ways to connect to the ProfiLux via our free App, Web server, PC-Software and myGHL Cloud service.
Your Path to Success with ProfiLux.
Having a ProfiLux Aquarium Controller operating and monitoring your aquarium, terrarium, or pond, can give you peace of mind. With ProfiLux, your aquatic environment is in the hands of reliable technology. Unlike, conventional test kits which are time consuming, ProfiLux continuously monitors and can control parameters such as pH, conductivity, redox, temp, etc.

But that´s not all!
The ProfiLux provides – depending on the model – a vast selection of preset settings, simulation programs, remote control and monitoring of countless devices, level control, pump control, Auto Top-off, advanced LED dimming, data acquisition and storage, programmable logic, and much, much more.
Even if you are not beside your aquarium, you can still check on it and maintain full control through automated Email notifications, SMS notifications and RSS feeds. Options like these allow you to act quickly when it is required.
All of the controller's settings can be retained even during power failures – All settings are stored in a non-volatile storage (FRAM). ProfiLux also provides a battery buffered real-time-clock (RTC).

With the ProfiLux Touch display, your smartphone or tablet (with the GHL Apps), an integrated web server, and myGHL cloud service, you can keep track of all your set-ups, even when having various aquariums, terrariums or ponds.

The ProfiLux Controller has been the powerful heart and brain of a well-engineered modular system that has been growing since 1998. GHL provides the tools for all your maintenance tasks for whatever functions you want to control, monitor, or automate in your aquarium, terrarium or pond.
Highly accurate measurement and control of all relevant water parameters, with alarm function*, data logging*, etc.
(*Depending on the chosen model)
32–channel* lighting control for most life-like simulation of clouds, storm, moon phases, seasonal lighting, sunrises and sunsets.
(*Depending on the chosen model)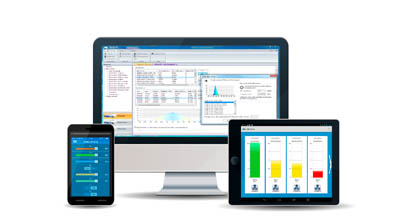 Stay informed at any time with our free apps*, PC software GHL Control Center, Webserver* and Cloud Service myGHL*.
(*Depending on the chosen model)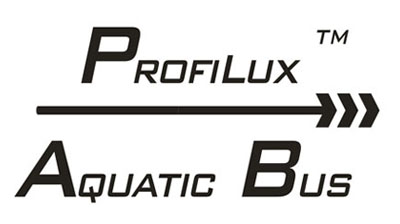 Professional CAN bus system for reliable and interference-free networking of all network devices, such as ProfiLux Controllers, Powerbars, Expansion boxes, GHL Dosers 2. Connect devices to each other with PAB cables up to 100 m (300 ft.) apart.
(from ProfiLux 3)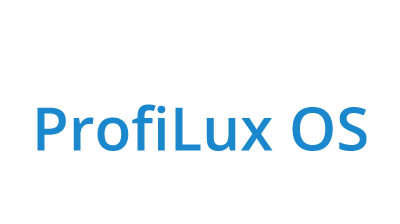 More safety through GHL´s own and unique for aquarium use specialized operating system, ProfiLuxOS.
1000 Possibilites to take Benefit from –  ProfiLux® 3 in Detail.
The ProfiLux Controller is recognized worldwide for its outstanding accuracy and reliability. From private users to research institutions, they all trust in the ProfiLux to provide them with highly accurate data and performance. The exceptional functionality of ProfiLux makes it the preferred controller of professionals and hobbyists alike.
Indispensable.

Achieving

Biological

B

alance with the

ProfiLux

S

ystem

.
ProfiLux can reliably and accurately measure and control all the important parameters and thus help you in obtaining the sensitive biological balance in your aquarium, terrarium or pond.

Depending on the model and application, examples are: Water temperature, pH, conductivity, redox potential, level, flow, oxygen content, air temperature or humidity.
The water temperature is measured by the included temperature sensor. The controller controls heater, ground heater and cooling. The sequence control with intelligent and self-learning intermittent wipers always ensures optimal heating with pinpoint accuracy. Of course, a nightly decrease is programmable.
The highly accurate pH control electronics can down regulate (sour, eg CO2 supply) or up regulate (alkalinization). A night off is programmable. The pH electrode can be calibrated simply by pressing a button and following the menu instructions from the ProfiLux.

For measuring and controlling you need the following items in addition to the controllers:
GHL

p

owerbars

e.g.

Powerbar

5.1

for switching on and

switching off consumers

such as

Solenoid valves

,

heating, cooling and

pump

s.

GHL

S

ensors

to measure various

water

values

.

Possibly

Expansion Cards or

additional equipment

depending on

the desired application.
The diagram shows

an example of how

the

ProfiLux

Controller

systematically

controls the interaction

of individual components

and

 ways it

can assist you

.
The operation of ProfiLux is very easy:
The ProfiLux can be operated via the keypad on the device. With the shortcut keys you can access the main menu items such as Lighting or pH directly and adjust settings.

You can also operate the device more conveniently with the highly professional PC-Software GHL Control Center, the embedded webserver, the ProfiLux App or the cloud service myGHL.
Specialized for You. Choose the ProfiLux Controller that Meets Your Needs.
We offer several ProfiLux controllers to match the perfect solution for each specific application.
There are ProfiLux Mini, Light, Terra, 3.1 T and 3.1.T eX and the brand new P4 Conrollers, that differ in terms of their functions and features. For applications in the outdoor area (pond or swimming pool) we offer the specially designed Outdoor 3 Controller.
Choose among different types of computers the one that fit your needs best. The computers beginning from ProfiLux 3  are easily expandable with Expansion Cards or Expansion Boxes and can be customized to suit your needs.
Features Overview of the ProfiLux Controllers

Controller Type
ProfiLux Light
ProfiLux Mini
ProfiLux Terra
ProfiLux 3.1T

ProfiLux 3.1T eX

ProfILux 3 Outdoor

ProfiLux 4

Illumination Channels

16
16
16
32
32
32
32
1-10 V Interfaces

4
4
4
6
(optional 30)

6
(optional 30)
6
(optional 30)
6
(optional 30)
Mitras Lightbar Interface

√
√
√
√ (at RS232)

√ (at RS232)
√ (at RS232)
√
ProfiLux Aquatic Bus (PAB)
-
-
-
√
√
√
√, 2x

AUX Port

-
-
-
-
-
-
√
DCF Receiver port

-
-
-
√
√
√
√
GHL Control Pad port

-
-
-
-
-
-
√
Power failure monitor port

-
-
-
-
-
-
√
Controllable sockets

4
4
4
64
64
64
64
Expansion slots

-
-
-
2
2
2
3
(1x internal)

Dosing Pump Control

√
√
√
√
√
√
√
Stream Pump Control

√
√
√
√
√
√
√
RS232

-
-
-
√
√
√
√,
(at Mitras LB interface)

USB/LAN
√, -

√, -
√, -
√,√

√,√

√,√
√,-
WiFI
-
-
-
-
-
-
√
Webserver and Email Client

-
-
-
√
√
√
√
Cloudservice myGHL

-
-
-
√
√
√
√
Alarm
-
visually/
acoustically
visually/
acoustically
visually/
acoustically
visually/
acoustically
visually/
acoustically
visually/
acoustically
pH-Value

-
√
-
√
√
√
√
Water Temperature

-

√
-
√
√
√
√
Redox Potential
-
-
-
optional
√
√
√
Conductivity
-
-
-
optional
√
√
√
Oxygen
-
-
-
optional
optional
optional
optional
Relative Humidity
-
-
√
optional
optional
optional
optional
Air Temperature

-
-
√
optional
optional
optional
optional
Other IES (e.g. Ca)

-
-
-
-
-
-
in preparation

KH / Alkalinity

-
-
-
-
-
-
√

Inputs Level Sensors/ Leakage Detectors
-
-
-
2
(optional 12)

4
(optional 12)
4
(optional 12)
4
(optional 12)
Operating System

ProfiLuxOS

ProfiLuxOS
ProfiLuxOS
ProfiLuxOS
ProfiLuxOS
ProfiLuxOS
ProfiLuxOS
Sensors included

-
Water Temperature

Humidity / Temperature

Water Temperature
Water Temperature
Water Temperature
Water Temperature
For years,

customers

around the world have relied

 

on

the safety of the

ProfiLux

A

quarium Controller

.

Are you ready to

 join them?
Light Dimming, pH-and Temperature Control were already the main features of the ProfiLux Computer in 1998. The controller was built from scratch and originally designed for private use to increase the safety and convenience of fish keeping. Soon enough, it was made clear to GHL that the outstanding performance and reliability of the prototype needed to be put into production to benefit aquarium hobbyists!
Countless features have been added since then to the latest ProfiLux 4 Model. The functionality of the computer is unmatched. Measurement and control of Salinity and Redox, Stream Pump Control or Weather Simulation Programs, user-friendly web interface, free control software and brand new cloud service my GHL, etc. The list of features is continuously growing thanks to our enthusiastic customers from around the world. We listen to the needs of our customers and develop products around those desires.
2010 Customers of Germany elected the ProfiLux II Controller Product of the Year.
The consistent development of the ProfiLux Controller guarantees that it always will be a worthy piece of state-of-the-art-technology for now and in the future.
The highlight of that short story of success surely was the honor of winning several awards. We have won on two counts, "The Innovation Award" donated from the government of the German federal state Rhineland-Pfalz: The first time in 2005, for the controller itself, and the second time in 2013 for the whole ProfiLux System for Aquariums, Terrariums and Ponds.
Are you in need of technical support or would like to have a buying guide? Do you want to know more about what a ProfiLux Computer has to offer?
If so:
Then join the growing GHL community by navigating to our dedicated support forum! Our GHL Support Forum offers you direct contact with the GHL–Team and our wide customer base. Just make sure you stop by!