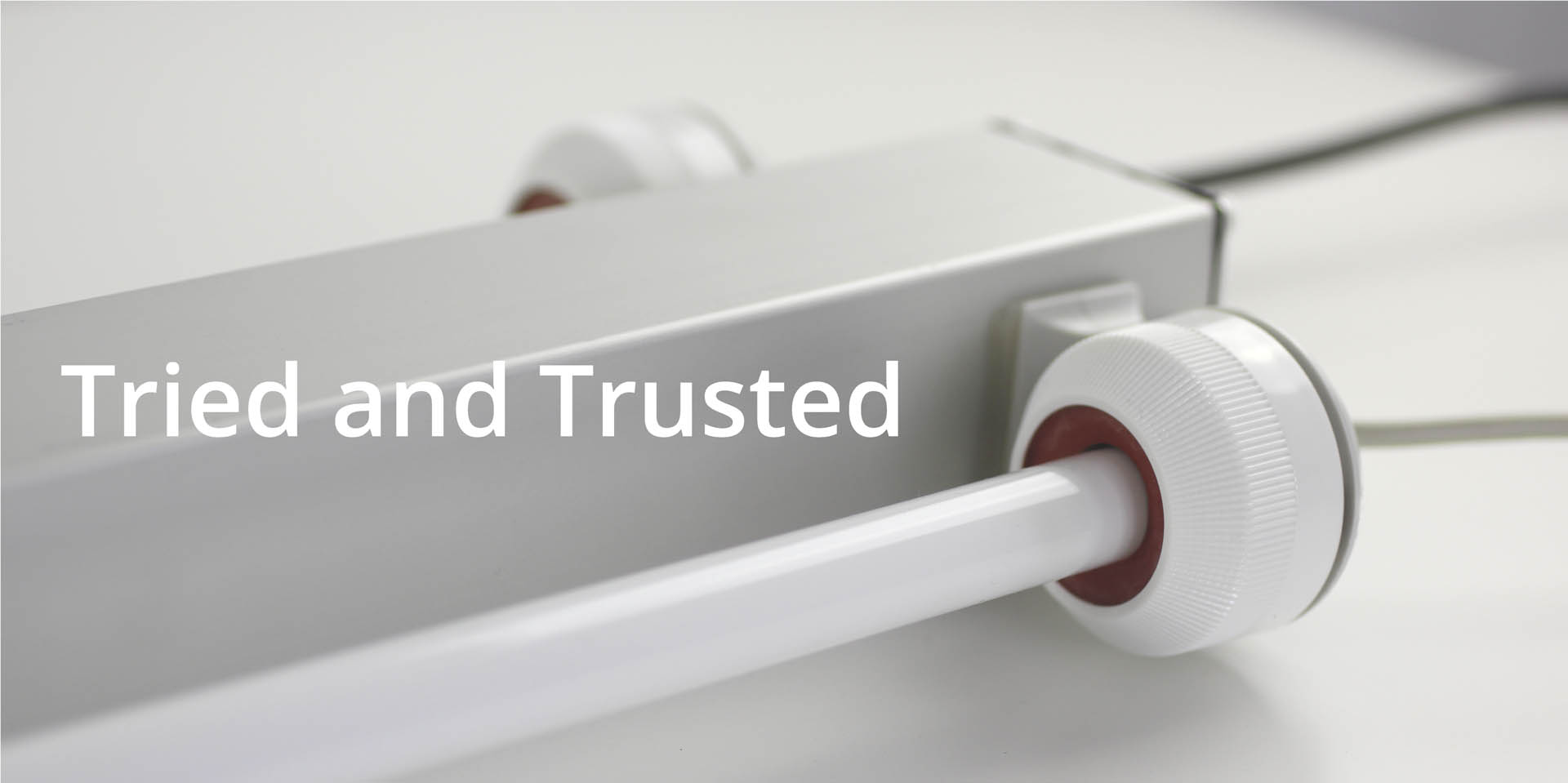 The Versatile Lightbar
GHL Aluminum Light Bars are manufactured in our own production facility under the strictest quality and safety requirements.
Made from high quality special and sea water resistant anodized aluminum extruded profile, (50 mm high and 52 mm wide) the GHL ALB provides ensures maximum stability with minimal weight and is available in various sizes for almost every aquarium.
The lightbars are available in:
Non-dimmable (lightbars for two tubes separately switchable at request)
Together or independently dimmable
With one or two tubes
GHL ALB can be mounted with various angle brackets for use in many different aquarium covers. We also offer a butt connector for bridging several ALB over large aquarium lengths.
Our T5–light bars are equipped exclusively with the most modern QTi balasts for gentle operation to ensure long life. This allows you to also use HE-tubes of the same length and with less power besides the usual HO tubes.
Cable lengths: Control cable 2,4m, 1,8m, if necessary extendable with article VSL, power cable.

For an extra charge, you get the lightbar in any specific length or light assembly. The GHL team will be happy to assist you with this request.
Operation with or without ProfiLux
Dimmable light bars of GHL can be connected either directly to the ProfiLux Computer or to the GHL ManuDimm. Also separate operation without a controller is possible.
By operating via the ProfiLux Computer you can use the automatic lighting control and adjust your desired lighting curves comfortably via the GHL Control Center.
By operating with the ManuDimm you have to dim the lightbar manually.
The light bars are equipped with an internal power shutdown. An external shut-off is not required.
If you want to operate our dimmable light bars without ProfiLux or ManuDimm, you need an additional circuitry to switch the internal shut-off relays.
Alternatively, you can order the dimmable light bars also without shutdown.
All dimmable light bars are also available with DALI technology.
This BUS technology allows you to operate up to 60 light bars in 8 independent dimming channels via one single control cable.
For the operation of light bars with DALI technology you need a DALI interface.
The ProfiLux computer can be equipped by retrofitting an expansion card PLM-DALI with this interface.
High-quality anodized

aluminum

extruded profile

Maximum

stability with minimal weight

Waterproof according to IP67
Flicker-free power on/off and continous tube dimming from 1% to 100%

Increased

service life of the

tubes

and

power savings

, due to

the

gentle operation

Enormous

variation

wealth

Replacement

of

standard

lighting

of complete

aquarium sets by

using our

aluminum profile

ALP

3

possible

in

which the

light bars

are simply inserted

.

This

thus

replace

the central part

of the cover

and stabilizes

additionally

.
Custom specifications are possible
Dimmable with ProfiLux or ManuDimm
Available for T5 tubes and T8 tubes
Available Standard

L

engths
The standard lengths with or without angle bracket (length information over all) can be taken from the adjacent table.
We happily manufacture special lengths for you.