The Professional Lighting Control

.

Master Your Tank Illumination Perfectly.



Achieving natural lighting conditions in your aquarium has never been easier.
The new compact aquarium controller Profilux Light offers many familiar features found in the proven high-end ProfiLux-3 series, all at an attractive price.
ProfiLux Light can control dimmable and non dimmable lighting, variable speed flow pumps, and much more. It can also be operated with a PC via USB.
The ProfiLux Light automated lighting control function provides you with unique lighting features. When combined with our dimmable luminaires (LED and T5/T8), fascinating light scenarios can easily be made.

ProfiLux Light gives you the option to adjust your illumination settings and fully automate your lighting fixture for day to day functions such as Sunrise/sunset, Cloud cover, Rainy days, Tropical dawn, Calendar-based moonlight simulation, Seasonal lighting, or Thunderstorm simulation.

Operation of the ProfiLux Light is simple and intuitive. All settings are user friendly and guided by interactive dialog. No programming skills required here!
The ProfiLux Light is easily accessible using the 6 keys on the device. For even more convenience, you can use our free operating software GHL Control Center (GCC), available in our download area.
We offer regular firmware updates to ensure that your ProfiLux remains future proof and is always up to date.
ProfiLux Light is designed for wall mounting and is available in two elegant colors: Glossy White or Glossy Black
Adjust your illumination easily to your needs with the GCC

Lightcomposer Software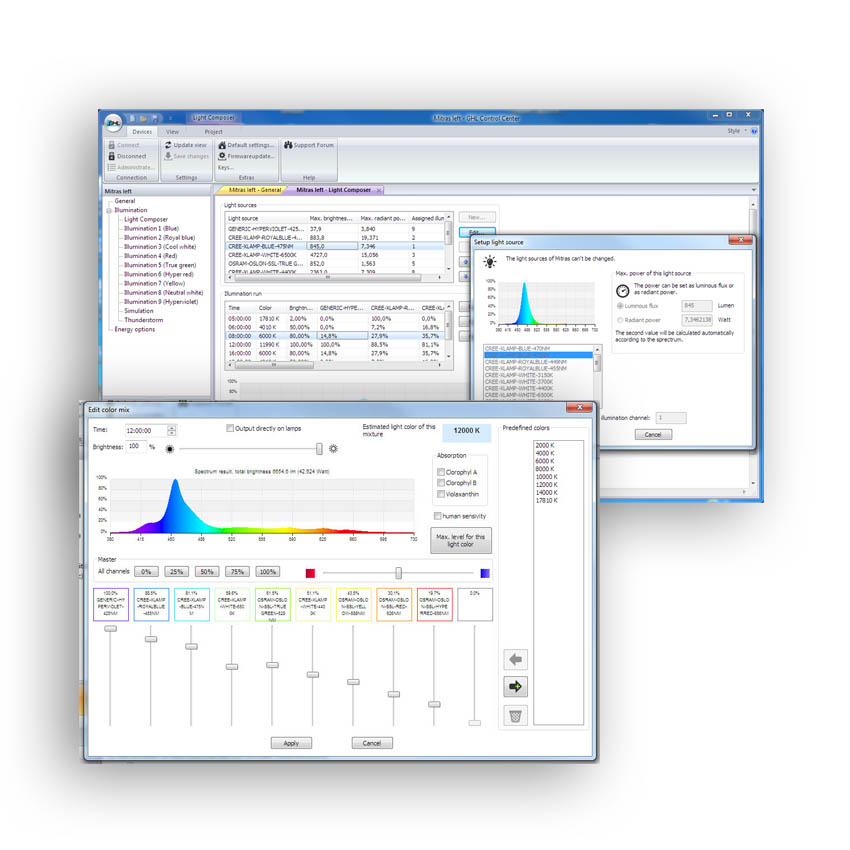 Features of ProfiLux Light:
Illuminated blue graphical display with 6 operation keys
USB Port
4x 1-10 V Interfaces for connection of dimmable/non dimmable lights or controllable stream pumps
Digital light control interface for Mitras Lightbar and compatible lamps
Connection for Powerbar STDL-4-4
Audible and visual alarm
Safe 12V low voltage operation
Did you know that you can easily control variable speed stream pumps using the 1-10 V interface ports on your ProfiLux Light?
Functions of ProfiLux Light:
Simple and intuitive menu-driven operation
Extensive lighting control:
– 16 dimmable channels
– Simulation of Moon phases, Thunderstorms, and Cloud cover
– Acclimation program
– Weekday-dependent programs
Control of variable speed current pumps via 1-10 V outputs
Feeding Pause and maintenance program
Adjustable reminders
Universal timers and dosing programs
Child protection via PIN code
Settings are stored during power loss in nonvolatile memory (EEPROM)
Operation via convenient PC software (Free of charge)
No coding required
Virus proof and specially for aquatics developed operating system ProfiLuxOS by GHL
Connections of ProfiLux Light:
Featurelist of ProfiLux Light:
General
Dimensions
WxDxH:130x85x25 mm
Delivery inclusive
Power Supply Unit, USB Cable
Functions and Features

Illumination Channels
16
1-10 V Interfaces
4

Controllable, separately switchable Sockets
4

Stream Pump Control

√
USB Interface
√
Graphical Display
√
Operating System
ProfiLuxOS